Best Tapas Bars in Bilbao centre
BY Taste Spain
0 COMMENT
Tapas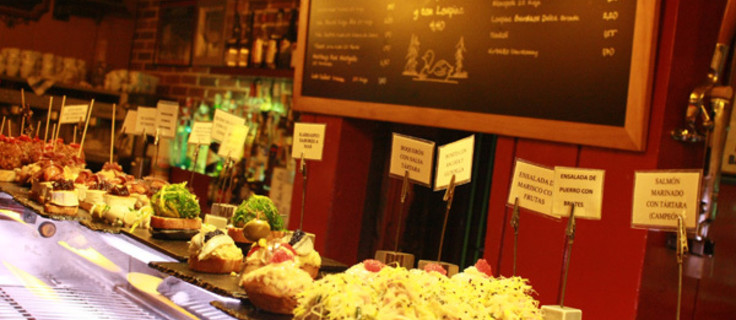 Pintxos are a type of 'tapas' found in the Basque Country and is one of the cornerstones of Basque cuisine. The small dishes, which are fanciful for their size, represent the various specialities of the regional gastronomy. In Bilbao, Casco Viejo is the best place for a wide selection of pintxo bars, which are best experiences with the local wines that match the dishes.
Given such a range to choose from, we can arrange a pintxo tour based on what suits you best, even your mood or the kind of weather. Depending on your tastes we can take you to the best tapas bars in Bilbao in a unique tour, with a local guide and carefully paired wines/beers.
A great pintxo bar is the one that leaves you unable to decide what to order after you've cast an eye over all the tasty options displayed at the bar. Based on some of our own preferences we have listed below what we consider to be some of the best bars in the centre of Bilbao:
El Globo
A must if you are in Bilbao, this bar is a meeting point for locals who love its warm atmosphere and award-winning pintxos. Some of the specialties include smoked salmon roll, red tuna steak with onion confit, and 'txipirones' (squid) tempura with caramelised onions.
La Viña del Ensanche
Located on the same street as El Globo, this is another regular haunt for the people of Bilbao. If you head over at lunch or dinner time, you will see just how busy it can get. The ham mini baguettes are simple but delicious, and the mozzarella salad and patatas bravas are highly recommended.
Bitoke de Albia
This bar has received awards on a number of occasions for its delicious and excellent modern-looking pintxos. It is possible to book a table at the restaurant area downstairs or enjoy a pintxos degustation menu. The warm pintxos are all fantastic – specially the 'pulpo' (octopus) a la gallega (with mash) – and the grilled foie gras slice on bread is to die for!
Café Iruña
Café Iruña is another one of the town centre's classic bars. Its decor is from from Southern Spain, making it stand out from the others, and it is very spacious both inside and out on the terrace. The lamb skewers can be enjoyed with mild or spicy sauce, and are a must for everyone visiting the area. The pintxos on the counter are also fabulous.
Huevo frito
The name of this bar means 'fried egg', and you'll find it in Indautxu, near the football stadium 'San Mames' – an area where locals hang around during the weekends, bank holidays and during celebrations. The bar's selection of fried-egg-topped pintxos come with a variety of additions, including green or red peppers, bacon, jamón, vegetables, and so on, but they are all beautiful. Mini burgers are also a speciality.
If you are visiting Bilbao's old town, check out here our bar recommendations.