Best pintxo bars in Bilbao's old town
BY Taste Spain
0 COMMENT
Tapas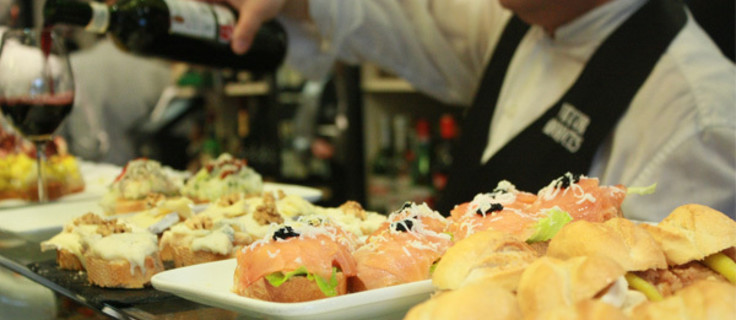 The old town is the most traditional part of town where locals go for a round of their favourite finger food. There are many bars in this area but this is our selection of four:
Victor Montes – located in the Plaza Nueva ('new square' and paradoxically one of the oldest squares in town) is recognized as one of the best pincho bars in the whole town. The pintxos on the counter are all beautifully presented and you can also book a table for an evening meal but we would recommend the smoked swordfish, their tuna's ventresca (the juiciest part of the tuna) with anchovies and vinaigrette and their courgette pincho with salmon sauce and fresh cheese.
Txiriboga – also known as 'el de las croquetas' ('the croquettes one'). Guess what is their specialty? Yes, that's right! Their croquettes are irregular, all different sizes and flavors depending on the day but always delicious! You won't see them at the bar, you'll need to order them and as soon a round is ready, you'll hear Antonio, the bar owner, shouting 'croquetaaaa'.
Bar Santa Maria – is located opposite Txiriboga and its counter always shines full of great looking, colorful pintxos. Highly recommended are their fresh foie on the grill with caramelized apple or their anchovy stuffed with parmesan and Iberian ham.
Irrintzi – just down the road from bar Santa Maria is the kind of bar where the 'cool people' from Bilbao would go. It's a good bar to finish your route or to go if you missed out on the others as it is open until later and you can find more exotic and modern pintxos such as crunchy frog's leg.
Have you visited the Basque Country before? If so, we would love to hear what is the weirdest pintxo you have ever tried.