Tapas and Pintxos Explained
BY Taste Spain
0 COMMENT
TNS Experiences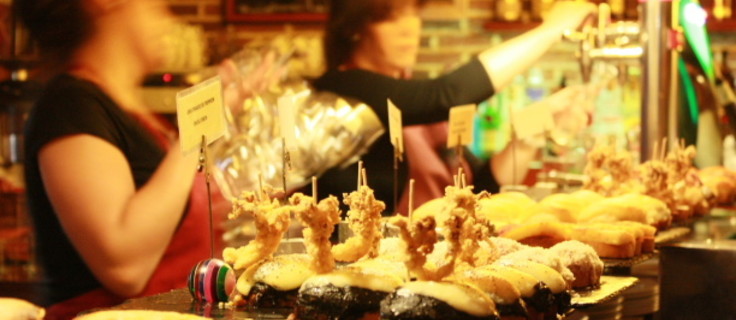 Where do tapas come from?
Many people know what a 'tapa' is but not know the actual origins of the word 'tapa'.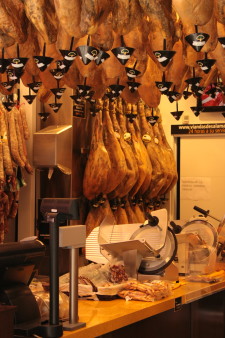 'Tapar' in Spanish means 'to cover' and the term dates back hundreds of years. Back then, the ham legs that hung in bars would attract swarms of flies. Bartenders used to give a free plate of ham or chorizo to customers when they ordered a glass of wine, and they would use this plate of meat as a covering for the drink to protect it from the insects. And from this humble origin the tapas has been perfected by the Spanish to become a cornerstone of their culture.
Free tapas
In some bars in Madrid and other Spanish cities, the tradition has been kept over the years and you might be lucky enough to get a little free tapa served with your drink. Tapas have evolved enormously over the years, though, and they are no longer restricted to cold meat – all sorts of Spanish food can be served as tapas. Now, Spanish tapas are served all over the world, you may have even seen them in some Asian restaurants and fusion restaurants all over.
Pintxos
Some people may say that pintxos are just the Basque version of tapas, but they are so much more than that. The gastronomy of the Basque Country, as many other aspects of the culture, differs from the gastronomy of the rest of Spain. Basque cuisine is very unique and elaborate – as are the region's pintxos which represent the wider regions gastronomic specialities in small bites.  These are most commonly on small bread base with a toothpick spearing some delight ontop, like jamón, queso, championes, pulpo or chorizo. Or a combination of these together on one pintxo.
'Pintxos' or 'pinchos'
'Pintxo' in Basque language or 'pincho' is Spanish comes from the verb 'pinchar' which means 'to pierce'. Traditionally, pintxos came with a cocktail stick skewering the toppings to the bread beneath. The toppings themselves are normally tiny versions of elaborate Basque or Spanish dishes; a classic one is the 'pintxo de tortilla'. These dishes are typically a couple of Euros per portion but it depends on the type of pintxo bar you are at. It can cost more, however the authentic ones don't charge much more than 3 Euros a portion. A suitable drink can be paired to the different bite sized dishes also.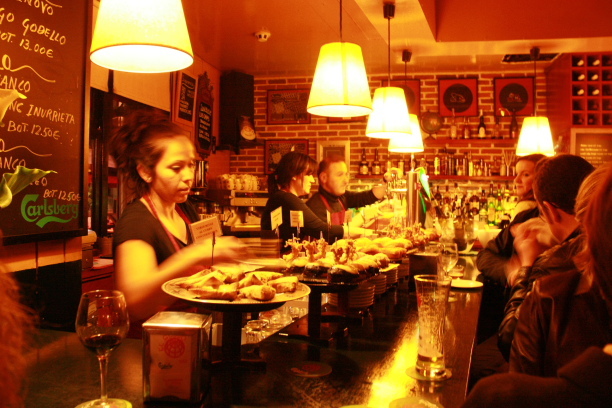 I'm at the bar, how should I order pinchos?
In Northern Spain, pintxos and tapas can be ordered from the table in most restaurants. When you're going for a pintxo feast, however, ordering them from the bar will allow you to see them displayed and pick out the ones you want. You are also more likely to get served quickly as the best pintxo bars get very busy at peak times and require you getting in quickly with your order.
Basque residents normally have a few pintxos at the bar. Traditionally, people just drop the napkins they have been using when eating the pintxo to the floor. In some bars you might find hundreds of little napkin balls on the ground, which is often a sign that the bar has great pintxos as you need to the napkins to eat some of the more creative pintxos.
Tapas
Tapas in the Basque Country are generally called 'raciones' ('platter') although everyone will understand if you order a 'tapa de patatas bravas' for example! These are on a plate and instead of being a smaller pintxo, they are suitable if you have an appetite on you, or if you want a small dish before your main course. However you can have 'raciones' with a mixture of pintxos also.
When the time comes to pay, the waiters will have remembered the number of pintxos and tapas you've had. When the bill arrives, Spanish people generally use a 'bote' to pay. This is a collection that everyone in the group contributes to before they order. Which works out to be the most fairest way of going from bar to bar. The waiters will rely on you to remember what you've had but they also have an amazing memory of knowing what you ordered also, so there is a trust when paying.  Unlike bars in countries such as the UK, the bill is paid for after the drinks/pintxos have been consumed, and when you're ready to leave. Sometimes patience is required when calling for the bill.
Protocol checklist
To summarize, these are a few things you need to remember when you go for a route of pintxos in a Basque town:
– Take cash with you, cards are accepted but you will need to contribute to the 'bote'.
– Plenty of napkins on the floor is a good indicator of food quality.
– Have one or two pintxos with a drink and move on to the next bar before you fill up.
– Each pintxo bar has its speciality, don't be shy about asking the waiters for recommendations.
– Pintxos are eaten by hand, only use cutlery if it's absolutely necessary.
– When you've finished, drop your used napkins and empty skewers on the floor.
– Enjoy trying a wide range of dishes and find your favourites.